Our approach
The Issue
From the climate crisis and growing economic inequality to the threat of global pandemics, children and young people are facing unprecedented challenges to their health. These challenges require innovative and bold solutions that address child health in and out of the hospital. 
How We Work
To address the challenges facing child health ECHO take a holistic view of research and innovation, bringing together leaders from our member organisations to identify actionable solutions. These include scientific and technologic innovations, like artificial intelligence and 3D printing, but also include organizational and social innovation. 
Are you in interested in innovating with the ECHO network? Contact us today to be connect to leaders in child-health innovation across Europe.
ECHO recognises that research and innovation are different but interrelated components of improving the health of children, young people, and families. Given the existing research infrastructure and expertise that already exists within our member hospitals, our primary focus is on supporting and promoting innovation.
Knowledge triangle to promote child health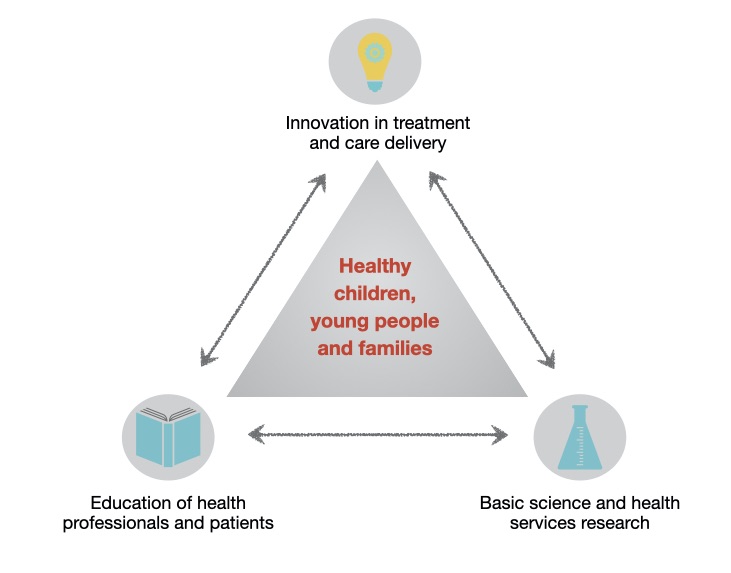 ECHO Innovation Priorities
Social innovation to support sustainable healthcare 

Networking to accelerate research and innovation

Big data and artificial intelligence (AI)
---
Social Innovation
The climate crisis will determine the lifelong health of today's children. ECHO is committed to promoting green innovation in and out of the hospital to help combat the climate crisis and ensure all children have the healthiest start in life possible. 

On World Environment Day 2020, ECHO released Children's Hospitals Green Promise, charting the course for sustainable children's hospitals of the future.  Led by Meyer Children's Hospital and in partnership with Health Care Without Harm Europe, this document lays the foundation for future work amongst ECHO hospitals and with our international partners. Read the full promise here:

---
Networking to accelerate research and innovation
ECHO members are leaders in child health research and represent an end user network of health professionals and patients. The Secretariat helps connects members to apply for joint projects through Horizon Europe and other funding sources. We also help connect members to share innovation initiatives and strategies for promoting innovation at an organisational level. 
Contact us if you are interested in reaching out to the ECHO network for a research or innovation initiative. 
---
Big Data and Artificial Intelligence
The future of healthcare lies in data and the ability to use it to improve patient health outcomes. ECHO is working with our members that already have big data and machine learning capabilities to further their application to child health.
We are also working with members who don't yet have big data capabilities to identify how they can benefit from existing data analysis and machine learning resources at other ECHO member hospitals.