Our approach
ECHO members and staff will advocate to improve government and hospital policies, private industry practices, and public attitudes that resultin meaningful change in the care of children in hospital.
How we work
ECHO works with our members, partner organisations, European Union Commission staff, and EU member state representatives to providing insight, evidence, and leadership on issues affecting children in hospital. We take an intersectional approach to our advocacy, looking for ways to improve health while also addressing other policy priorities like creating more sustainable societies.
Advocacy Priorities
Child Rights
ECHO is committed to promoting and protecting the rights of children in hospital. A rights-based approach to care centres the needs of patients and their families and can help improve quality.
November 2019 marks 30 years since the signing of the United Nations Convention on the Rights of the Child. To celebrate this milestone and recommit to continuing to protect and promote the rights of children and young people ECHO, together with organisations representing children's hospitals in Australasia, Canada, and the United States has issued a joint declaration calling for early and sustained investment in child health. 
Joint Statement on Child Rights 
To support hospitals on their journeys to incorporating a rights-based approach to care, ECHO has issued the ECHO Toolkit: Supporting Rights of Children in Hospital. This toolkit is an evidence-based approach to the implementation and evaluation of a rights-based approach to caring for children and young people in hospital.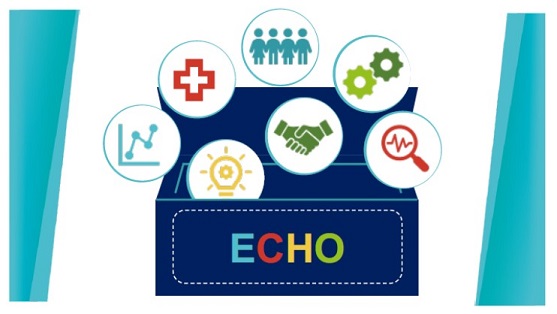 Supporting patients with rare diseases - European Reference Networks (ERNs)
Children's hospitals are leaders in caring for patients with rare diseases and working with our partners to ensure that the ERNs are sustainable, functional, and best meet the needs of paediatric patients. The ECHO Secretariat is helping to do this by taking a leadership role in involving hospital managers and in co-coordinating their data sharing and management initiative.
---
Increasing research funding for children – Horizon Europe
Horizon Europe is an opportunity to ensure that more research funding is available to all researchers, and not limited to specific populations, as sometimes happened in the past. Horizon Europe is also a chance to make sure that research on diseases specific to children are adequately funded. ECHO is working to be sure that the health needs of children and young people are prioritised in the next budget cycle.
---
Making children a priority in the Horizon Europe Cancer Mission
Cancer is the leading cause of non-accidental death amongst children and young people in Europe and children's hospitals are the main care providers for these patients and their families. Cancer in children is a completely different disease than cancer in adults. Addressing childhood cancer will require a specific and unique focus on children within the Horizon Europe Cancer Mission.
---
Ensuring  digital health systems include children's hospitals
Many countries have only one or two tertiary care children's hospitals, making cross-border comparison essential to improving health outcomes. For this reason, it is essential that there is adequate investment in pan-European health information and technology systems to connect these hospitals.